KM Ant Pro - Ant Control Using Natural Organic Liquid Ant Bait
Ant problems driving you crazy? Too many options available but none seem to work? You've tried ant gels, ant dusts, ant disks and all kinds of ant sprays and killers, but nothing works? That's because you haven't tried KM Ant Pro and Gourmet Liquid Ant Bait! The KM Ant Pro Ant Bait System simply works by giving ants what they are looking for - food. Gourmet Liquid Ant Bait placed into the KM Ant Pro Dispenser gives ants what they want - 24 hours a day / 7 days a week. Best of all, once installed and activated, the KM Ant Pro dispenser only has to be refilled every 3-4 months! It's so easy to use it's no wonder that over 100,000 KM Ant Pro dispensers have been sold and are in use across the USA!
The KM Ant Pro Ant Bait System is so advanced and ecologically correct, that it is used by f thousands of homeowners and also many major growers and citrus producers to control aggressive invasive ants in crops and in orchards where pesticides will not work or cannot be used. It's National Organic Program Food and Crop Compliant, extremely effective at controlling existing ants and also minimizing future ant invasions from outlying areas.So if ant problems are driving you crazy, get the complete system. It's 100% Guaranteed!
How Natural Ant Control Works Using KM Ant Pro Liquid Bait Stations
In order to kill ants you have to locate the nests, (which can be underground, inside a wall, attic, etc.), then kill the workers and their queens. Spraying ants with liquid ant killers, only kills the workers and scouts. It does not kill the queens and will only make ants worse.
Ants nest underground and in wall voids, attics, tree limbs, etc. Finding the ant colonies and obtaining 100% control used to be difficult. That's because it is not always possible to find where the ant colony is located. In almost all cases, liquid ant bait stations placed near the path of ants or where ants can find them are very effective and can save a tremendous amount of time, money and frustration. Best of all using liquid ant bait contained in a weather resistant, tamper resistant station is safer for children, pets and the environment. Forget sprays, dusts and granular baits, KM Ant Pro Ant & Insect Bait Stations will solve the problem and are 100% Guaranteed.
When the KM Ant Pro Ant & Insect Bait Station
dispenser is filled with liquid bait and activated, a small quantity of bait is released into a feeding tray. As the ants consume the bait, the liquid tension ducts allow the feeding tray to be replenished automatically. The KM Ant Pro Ant & Insect Bait Station dispenser offers full 360 degree access and an uninterrupted feeding pool of liquid ant bait. The ants feed in total protection from the environment and are free to to leave at will. The gravity feed reservoir provides enough bait to feed several ant colonies simultaneously over a long period of time. Another important benefit, more than one species of ant will forage at the stations at the same time.
The KM Ant Pro Ant & Insect Bait Station dispenser is a highly durable, rugged device which provides consistent long term ant control. The unit is refillable and will provide years of dependable service when maintained correctly.
KM Ant Pro For Year Round Outdoor Ant & Insect Pest Control
The KM Ant Pro Ant & Insect Bait Station ant control system
is weather tolerant and is also tamper resistant. It is safe to use in areas where liquid pesticides or scatter baits cannot be used. For outside use it comes with an attachable stake to secure it to earth surfaces when applicable. To activate it simply rotate the bulb one half turn while holding the base ramp in place. In Agricultural applications large areas can be treated with Ant Pro Ant & Insect Bait Stations with liquid bait without having to spread pesticides on crops and pastures where livestock live and graze. Orchards and harvesting areas will be much safer for workers. The cost of control for imported fire ants, argentine ants, white-footed ants and many other species of ant is greatly reduced. Simply place the KM Ant Pro Ant & Insect Bait Station where it is needed and let it do its job.
KM Ant Pro Bait Stations For Home, Office and Garden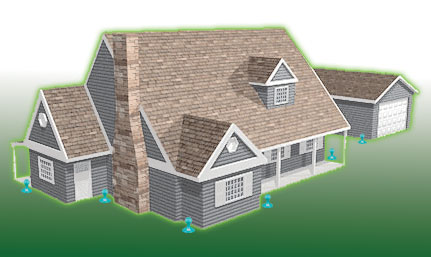 KM Ant Pro Ant & Insect Bait Stations
will eliminate ants and other insects from around your home and yard, and provide a barrier to re-infestation.
KM Ant Pro Ant & Insect Bait Station stations will destroy ant colonies for moderately infested areas without refill for up to 90 days. They are easily refilled and can be left unattended in practically any installation. Care should be taken when placing Ant Pro Ant & Insect Bait Stations near livestock, pets or young children.
KM Ant Pro Ant & Insect Bait Station stations are exceptionally durable and will last for many years. . The Ant Pro can be refilled and used over and over eliminating the enormous cost of continually purchasing prepackaged baits and or the cost associated with multiple insecticidal applications.
To deactivate and move KM Ant Pro Ant & Insect Bait Station to a new location, rotate the bulb back to the original position. When the unit is in the closed or activated position, a locking screw secures it from tampering. When Ant Pro Ant & Insect Bait Station System with liquid bait is left in place, it will prevent re-infestations from occurring.
*Money Back Guarantee - Because of their excellent construction, ease of use and most importantly effectiveness, the KM Ant Pro Ant & Insect Bait Station is rated 5 Stars by ePestSupply.com and is highly recommended. We have sold over 100,000 stations to customers all across the USA and the World. The KM Ant Pro Ant & Insect Bait Station is guaranteed to be of the highest quality and construction. If you are not completely satisfied with the KM Ant Pro Ant & Insect Bait Station, simply return the unused stations to us and we will refund the cost of the system.

__________________________________________________________________________________________________________________
KM Ant Pro Testimonials
"I discovered Ant- Pro by searching online after trying everything under the sun to get rid of a terrible ant problem. I talked to Ken at Ant Pro and was advised to find a couple of ants, attach to a piece of scotch tape and mail them. He was very pro active in helping me address my problem. I bought 4 bait stations and have been using them successfully for now three years. Have not seen a single ant in my hose since.
A GREAT PRODUCT!!"

S. Ligouri - Florida
"I called you about a week ago about our dispensers. We decided that two of them were sitting in too much direct sun and we moved them to shadier locations. The other one jostled by a critter. So, all four are fine and the ants are just streaming to them. As I have not seen a single ant in the house, I am overjoyed that this product will solve a huge problem for us during the summertime. Thanks so much for your assistance.
Carol - New York
"I ordered the Ant Pro Ant & Insect Bait Station stations after spending hundreds of dollars with a local exterminator who could not solve the problem. All he did was spray and told me that there was nothing else he could do. My Ant Problem is now solved thanks to the Ant Pro Ant & Insect Bait Stations.
Richard P. - Tallahassee
"I would just like to comment on your KM Ant Pro Ant & Insect Bait Station 4 Pack Kit. I own a duplex in Western, Mass and we have been getting hammered by ants all season. We put down the granules and then then had a pest control guy come and spray for them. The result, NOTHING. The ants were not slowed down at all. I decided to do some research on the net and came across your site. I decided to purchase the 4 pack and give it a try. The results have been incredible! No ants in the Kitchen for the last 5 days (starting 2 days after we put the feeders down). Also, we have been sweeping up dozens of dead ants in our basement, and see many others walking as if they are drunk, clearly dying. Your product is very effective and the feeders look like lawn ornaments and are hardly noticeable. Thank you very much. Mike O. - California

KM Ant Pro Ant Bait Kit (4 + 2 pack)






KM AntPro Ant Bait System

Controls exotic and invasive ants such as argentine,
carpenter, ghost, white footed, crazy, fire ants and others!

Build Your Own Kit!
Use 1 KM Ant Pro Unit on each side
of your home or building or every 2500 square feet

FREE Seasonal Ant Baiting Tips
FREE Lifetime Technical Support

- Limited Time Only -
4 KM Ant Pro's + 2 Qt's Gourmet Liquid Ant Bait
Special Sales Price - $129.95

Prices start at only $54.95 for our 1 + 1 combo pack!

FREE SUPER SAVER SHIPPING (48 States Only)