July 1, 2008 4:30 pm CST Dallas, Texas ePest News

RSS Feed

Atom Feed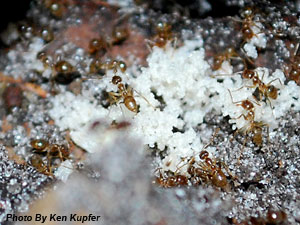 Back in 2002 a Texas exterminator found what he thought was a new ant species. Tom Rasberry of Budget Pest Control in Pearland, Texas was doing battle against a very invasive ant species that didn't seem to respond to normal pesticide treatments. In fact this new ant was what sounds like a really low-budget horror film. They were ferocious swarming ants that apparently arrived in Texas aboard a cargo ship invading homes and yards across the Houston area, shorting out electrical boxes and even NASA's computers. This small goldish reddish brown ant with a glossy body and shiny hairs was a new ant he had never seen, and researchers in Texas had never seen. So it was deemed the "Crazy Rasberry Ant" in honor of Tom Rasberry who originally found it.

However, according to experts, the reddish brown, hairy, fast moving ant that is plaguing south Texas Counties could be a "unicolonial offspring" of the famous Caribbean Crazy Ant. In Florida and across the Caribbean this ant is known as the Caribbean Crazy Ant or scientifically as Paratrechina Pubens and was found in Coral Gables, Florida and in Miami, Florida in 1953.

Experts are wondering if this ant could be the exact same species of the Caribbean Crazy Ant or an adaptation of it. All ants are capable of genetic mutations. They can change and adapt to their environment over time. The Caribbean Crazy Ant was originally identified over 100 years ago in St. Vincent, Lesser Antilles, and has been found on other West Indian islands, including Anguilla, Guadeloupe, and Puerto Rico. It has just now made its way to Texas and will drive Texans crazy just like it has Florida residents.

The Crazy Rasberry Ant has been found in 5 counties near Houston since 2002. The colony size is enormous with 50 million ants per acre being reported. They swarm into electrical boxes, computers, TV's, anything electronic. The shear number of them will cause electrical devices to short out. They reportedly caused 3 computers to short out at NASA in Houston. IT Techs at NASA reported hundreds of dead ants falling out of computers that had shorted out. Homeowners have reported sweeping up dust pans full of dead ants.

While all the hoopla concerning controlling the Crazy Rasberry Ant has made National News and drove some people to request that stronger pesticides be made legal for use, an organically certified solution has been specifically developed for the Caribbean Crazy Ant, Crazy Rasberry Ant and other exotic, invasive hard to control ant species.

It's called "Ant Pro" and it works by giving them exactly what they are looking for which is sweet sugary citrus food. The "Ant Pro" device dispenses a small amount of a naturally based ant killer mixed into a citrus based attractant. They want sweet citrus based food, but because ants don't eat solid foods, only liquids, the "Ant Pro" dispenser delivers exactly the right amount of liquid bait over an extended period of time that will kill and control them.

Ron Dawson with ePestSupply in Dallas, Texas says that his sales of the "Ant Pro" ant bait dispenser have increased this year along the coastal areas of Texas near Houston primarily due to Crazy Rasberry Ants and also the Rover Ant - Brachymyrmex Spp. Sprays and over the counter baits only tend to make them worse because they reproduce faster and spread faster. "We have a product that not only controls Caribbean Crazy Ants and Crazy Rasberry Ants, but also controls other exotic and highly invasive ants such as White Footed Ants, Ghost Ants, Argentine Ants, Carpenter Ants, Fire Ants and many more. The fact that it utilizes nature based products instead of conventional pesticides is important says Ron". "The ants won't be able to adapt and grow resistant to it" he also said.

While "Ant Pro's" are extremely popular with Homeowners, they are also popular in agricultural settings such as food crops, vineyards and other similar areas where normal pesticides are not effective and may not be legal for use. The State of California has given "Ant Pro" an Organic Certification and it is in use in hundreds of Vineyards and crop farms from Florida to Texas to California.

"Ant Pro" liquid ant bait dispensers are available through several hardware and farm stores in South Florida and Southern California and available exclusively online at ePestSupply.com.

Additional Links
University of Florida - Rover Ants
University of Florida - Caribbean Crazy Ants
KM Ant Pro
---