EZ Klean Outdoor Rodent Bait Station Makes Rodent Control Easy
Lets face it. Most people wait until they have a rodent problem before doing anything about it. Right ? Controlling rat and mice infestations is hard work. First, sanitation has to be considered. Rats and mice love trash, garbage and unkept areas. Then you have to build them out and exclude them. Holes, cracks, and other areas that are the size of a dime or larger have to be repaired. If not, then that entry point becomes a trail for others to follow. Then you have to either trap or kill the rats and mice that are living inside. That means either using traps or bait.
Trapping rats can be a cumbersome task. And if you are lucky enough to trap them, then you have to dispose of the dead rat and clean up the mess. Baiting for rats or mice indoors can be even worse. 99% of the time, the rat or mouse eats the bait, then crawls into its nest and dies. The myth of rats or mice going outside to look for water after consuming bait is just that - a myth. It rarely happens. Also, rat and mice bait does not cause the dead carcass to dry up and not smell. Just the opposite. Rat bait can cause the rat or mouse carcass to bloat and create unbearable rancid odors. These odors can churn your stomach and at the same time attract flies and other insects. Ever had a dead rat smell and all of the sudden house flies appear everywhere?
Prevent rat and mouse problems before they start. Start outside with a regular preventive program. Make sure that all rodent entry points are sealed and then install EZ Klean rodent stations around your structure to feed and kill rodents outside before they get in. Use 3 stations around an average size home.


(Cut Away Views)
EZ Klean Rodent Feeding Stations Are Available in
3 Colors To Match Every Decor and outdoor environment

EZ Klean For Outside Rodent Control
Place EZ Klean rodent stations around the perimeter of your building to give rodents what they are looking for before they get inside ! For homes, place EZ Kleans up against the outside wall and every 30 - 50 feet. Place them behind shrubs, Air conditioning units, around storage sheds, outhouses, detached garages, etc. That's an average of 3 - 4 EZ Kleans for your home. For commercial buildings and properties, place EZ Kleans every 30-50 feet around the entire building. For food manufacturing facilities, place them around the building and around the perimeter fence line to create 2 zones of defense.
The EZ Klean Rodent Feeding Station is a durable plastic station so tough, that you can stand on it, stomp it, throw it and even drive a truck over it and it is guaranteed not to break. Simply open the EZ Klean with the supplied key, inspect the rodent bait and replace if necessary, then using a small brush sweep out the station to keep it clean. It's that EZ ! Pest control operators, building maintenance professionals, even homeowners and building owners will love the EZ maintenance of the EZ Klean rodent station. Plus, it's rugged and durable construction will last for years. It's the EZ and wonderful way to control rodents.
Available in Green, Black or White, the EZ Klean rodent station will match any decor and can be ordered with a customizable name plate to get your name out in front of potential customers !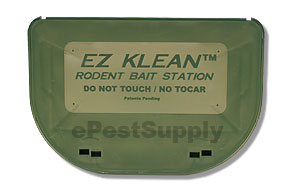 Customized Name Imprinting Available - Call For Details


EZ Klean For Inside Rodent Control
The EZ Klean will sit flat in garages, attics, sub areas, under sinks and other hidden areas where rodents hide and nest.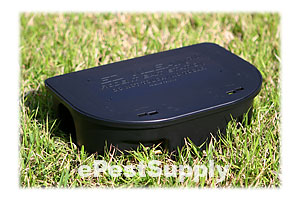 EZ Klean rodent station (Actual Size - 13" x 8")


EZ Klean For Home, Office and Garden Rodent Control
EZ Klean rodent stations with appropriate rodent bait and maintenance will eliminate rats and mice from around your home and yard, and provide a barrier to re-infestation.
The EZ Klean rodent stations will destroy rats and mice for moderately infested areas without refill for up to 30 days. They are easily refilled and can be left unattended in practically any installation. Care should be taken when placing EZ Kleans near livestock, pets or young children.
Since the EZ Klean stations are exceptionally durable, they can be refilled, when necessary, and used over an extended period of time.
100% Money Back Guarantee
- Because of their excellent construction, ease of use and most importantly effectiveness, the EZ Klean rodent bait station is rated A+ by ePestSupply.com and is highly recommended. We have tested the EZ Klean and received emails and letters from satisfied customers all across the USA and Europe. The EZ Klean is guaranteed to be of the highest quality and construction. If you are not completely satisfied with the EZ Klean, simply return the unused stations to us within 1 year of purchase and we will replace them free of charge or refund your money.
---

Customer Testimonials -


"I ordered the EZ Klean stations after spending hundreds of dollars with a local exterminator who could not solve the problem. All he did was put out bait and told me that there was nothing else he could do. My rodent problem is now solved thanks to the EZ Klean.
- K. Northcutt - Tampa, Florida

"My company switched from Protecta Bait Stations to EZ Klean due to ease of cleaning and access. I won't use any other rat and mouse feeding station, the EZ Klean is the best station on the market".
- R. Sterling - Miami, Florida

"I didn't believe the ad, so I drove my truck over it. It did not break and didn't even scratch. Incredible. We now offer the EZ Klean rodent station exclusively to our commercial and residential customers. We charge $25.00 each. That's a good deal for our customers."
- J. Riley, - Dallas Ft. Worth Pest Control, Dallas, Texas

"The EZ Klean is an exceptional value in durability and cost. No other rodent bait station even compares. That's why we offer the EZ Klean rodent bait station with an industry first - 100% Money Back Guarantee." The EZ Klean gets our 5 Star rating.
- Ron Dawson, President - ePestSupply.com