---

The Original Waspinator Is Tested & Recommended By ePestSupply.com*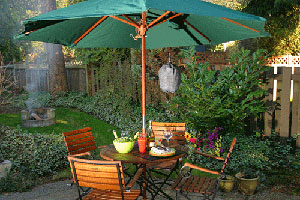 The original Waspinator works without toxic chemicals or messy bait. It's easy to use wasp control, easy to take along, environmentally friendly, weather proof, safe, clean and effective.
Wasp control made EZ. The Waspinator is inexpensive, easy to use, very portable, made from recycled material, and will last throughout the season. Just hang the Original Waspinator on your table umbrella, or under the eaves of your home. You will be surprised and amazed when the wasps leave the area! Based on natural territorial traits, wasps think that the Original Waspinator is an enemy wasp nest! Wasps won't come near it!
Take it anywhere! The Original Waspinator is very portable. Made from recycled materials, the Original Waspinator can be folded up and stored in your purse or back pocket! Its perfect for camping trips or for just hanging under your awning or umbrella. The Original Waspinator also works great for keeping wasps away from doors and windows - just hang it up over your door, and wasps won't come near it!
How Does Natural Wasp Control Work?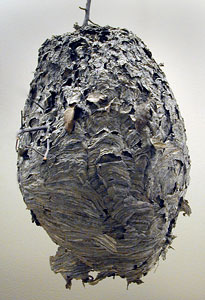 Many species of Wasps are social insects meaning that they have a psuedo caste system. The wasp nest lays claim to their territory. A single nest may contain only a few wasps in the beginning, but can grow to host several thousand wasps over a long period of time if the nest remains undisturbed. The larger the nest, the larger the wasp territory.
Picture of wasp nestTypically, a wasp nest is made from mud, tree stems, leaves and organic materials and may be grow to be several feet in diameter. It is multi colored, usually light gray and striated, and it has an oval shape with an entry hole in the bottom of the nest.
picture of wasp faceWasps and Yellowjackets have very large prominent eyes. They are very visual and depend on their eyes to catch moving prey. They are acutely aware of any objects within their territory, especially other enemy wasps.
The colorful color combinations and the entry hole are the secret to the powerful effects of the Original Waspinator. Careful design and testing has created a very realistic combination that fools wasps into believing that an enemy nest is nearby. When wasps see the Waspinator, they fly away in fear leaving the area WASP FREE!picture of waspinator
*Tested & Recommended By ePestSupply
The Waspinator has proven to be effective in our field testing. We are confident that it will repel wasps as it is advertised to do. The original Waspinator is guaranteed to be of the highest quality and construction. The Waspinator is designed to repel wandering or scout wasps. It is not designed to eliminate existing wasp nests. If you have existing wasps nests, they need to be eliminated and removed by using a product such as Wasp Freeze. The Waspinator can then be safely installed to control wandering or scout wasps.