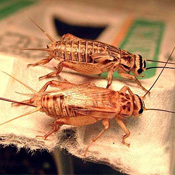 House Cricket
The house cricket and the field cricket commonly invade homes. Camel crickets and mole crickets are also occasional pests indoors, especially in damp and dark basements which have a partial dirt floor. When present in large numbers, crickets are a considerable annoyance and can cause damage to some fabrics such as linens, rayon, and furs. They will attack paper, all kinds of foods, and even rubber. However, unless large numbers occur, such damage is usually minor.
Crickets are rather closely related to cockroaches, so have a gradual metamorphosis. The young, or nymphs, look like adults, except that their wings and genitalia are not developed fully.
The house cricket lives outdoors but may invade houses in great numbers. Adults are about 3/4 inch long with 3 dark bands on the head and long thin antennae. The body is light yellowish-brown. This cricket is active at night, usually remaining hidden during the day. They are omnivorous, eating or drinking almost anything that is available. In households, they may chew on or damage silk, woolens, paper, fruits, and vegetables.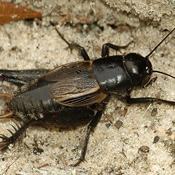 Field Cricket
The field cricket is widely distributed over the United States. It is larger than the house cricket, and has wings extending beyond the wing covers. They are usually dark brown to gray or blackish. Field crickets frequently invade houses and may feed on just soil or a wide variety of other materials. Smaller field crickets of the may also invade homes in late summer. Field crickets prefer to live outdoors where they feed on soft plant parts, but will move inside when grasses dry up or environmental conditions outdoors become unfavorable (excess heat, cold or rainfall).
Field crickets are often attracted to lighted areas at night. Thus, problems with crickets can be lessened by turning off these lights during periods when crickets are numerous, or at least manipulating lights so the crickets are less bothersome. Otherwise, exclusion techniques should be applied to keep crickets from entering structures as much as possible.
Satisfactory control of crickets frequently involves treatment both inside and outside the structure, as well as removal of breeding and feeding sites outdoors and use of tight-fitting screens and doors. Any opening to the building near ground level should be properly sealed. Sprays are recommended for chemical control. Wettable powders such as Demon WP and microencapsulated formulations such as Demand will give superior residual action on outdoor surfaces. Non-residual sprays such as CB80 can be very useful when applied as a fog to attics, ceiling voids, crawl spaces or other areas when fast knockdown and kill are required. Dust formulations of Drione or borid may be preferred in some circumstances, such as for treatment of crawl spaces, wall voids, or attics.
Various bait formulations such as Larva Lur or Niban are available which are particularly effective when scattered around the foundation outdoors, or when applied above drop ceilings or in attics indoors.
Insecticide spray or bait applications to damp areas of the basement and ground level floors are recommended for field crickets. Other areas may have to be treated for house crickets or seasonal swarms of field crickets, which may be found almost anywhere in a structure. Application outdoors to foundations, window wells, around doors and windows, crawl spaces, under garbage cans, flower beds, and weep holes in brick facings are necessary. If heavy infestations are encountered, a 5-to 20-foot band around the structure should also be treated with either a residual spray or bait. Another effective technique indoors is to trap crickets with the EcoSafe Sticky Bug Traps. Place EcoSafe Sticky Bug Traps under and behind furniture or near doorways along walls to capture crickets. Replace them when full.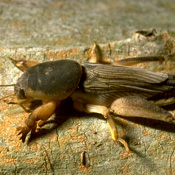 Mole Cricket
Recommended Cricket Products:
Mole Crickets are about 1 1/2 inches long, are golden to chocolate brown in color and are covered with fine velvety hairs. They are endowed with strong front legs equipped for digging. Their small winding burrows of loosened soil reveal their presence. They are nocturnal feeders and may tunnel as much as 10 to 20 feet a night.
Those meandering surface ridges that suddenly appear on your lawn indicate the presence of mole crickets. The next symptom is will be dead or damaged plants. Two common mole cricket species attack plants - the Northern Mole Cricket and the Southern Mole Cricket. Vegetable crops may be damaged by the mole crickets.
Treatments for mole crickets usually include a thorough treatment of the infested area with a residual insecticide such as Talstar Professional. After treatment, a thorough watering usually helps residual insecticides to penetrate the soil. Talstar Granules are also a very good product to use in mole cricket control and can be applied either by hand or with an insecticide granular spreader such as the Solo Granule Spreader.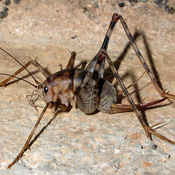 Camel Cricket
Camel Crickets are also called stone or cave crickets. Although camel crickets are not true crickets, are wingless, and are otherwise distinctive in appearance because of their arched backs. They are active at night, are not attracted to light and have no "song". Camel crickets are occasional pests indoors, especially in damp, dark basements. When present in large numbers, crickets are a considerable annoyance and can cause damage to some fabrics such as linens and furs. Satisfactory control of camel crickets frequently involves chemical treatment both inside and outside the building, as well as removal of breeding and feeding sites outdoors and the use of tight-fitting screens and doors. Always read and follow all label directions when using pesticides. If only a few camel crickets are noted throughout the winter, simply remove them by hand and apply Niban or Larva Lur around the perimeter of the structure to prevent further problems.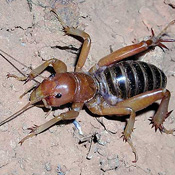 Jerusalem Cricket
Recommended Cricket Products:
Jerusalem Crickets are sometimes called "children of the earth". They have large, round, naked heads with two bead like black eyes that may give them a fancied resemblance to a miniature child. They burrow into loose soil, are active at night and are seldom seen. They are useful predators, feeding on other insects and spiders. Although fierce looking, Jerusalem Crickets are harmless, but their powerful mandibles could inflict a minor, non-venomous wound if handled carelessly. Treatment with a residual granular insecticide such as Talstar Granules or a spray such as Talstar Professional will help to kill and control Jerusalem crickets.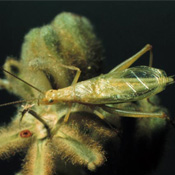 Snowy Tree Cricket
Recommended Cricket Products:
The snowy tree cricket is white or pale green and 1/2" long. Tree crickets are relatives of house and field crickets, which are more commonly seen. Female tree crickets are elongated with males being somewhat wider. The loud, high-pitched trills of the males can be heard at night. Tree Crickets will attack apple, blackberry, cherry, grape, peach, and plum plants, although, damage is usually minimal. In fact, the only serious consequence to their feeding is the possible introduction of disease through the injured area. They will also feed on small insects. Crops overgrown with ground cover are most susceptible to an infestation. Control methods are not usually necessary if the ground cover is kept to a minimum or eliminated. Niban baits work well in areas where Tree Crickets seem to be a problem. An generalized treatment or spray with Talstar Professional will also help keep Tree Cricket infestations to a minimum.