Brown Marmorated Stink Bug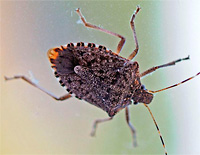 Brown Marmorated Stinkbug Description:
Size is 1/4" - to 1inch long
Color is brown, with light and dark bands on the antennae, and a copperish, bluish metallic tinge on the head and lower abdomen.
Recommended Eco Products:
Recommended Spray Products:
Stinkbugsare not an insect that is native to the USA. In fact, stinkbugs were originally introduced into the United States in the late 1990's. They were first collected in Allentown, Pennsylvania in September of 1998. It is thought that they probably arrived many years earlier. Commonly known as the "Brown Marmorated Stinkbug", this pesky insect is an agricultural pest originating from China, Japan, Korea and Taiwan. It is a very serious threat to fruits, vegetables and crops and has become a serious nuisance in the United States, especially the Mid Atlantic Region, The Ohio Valley and the Eastern Seaboard.

The Brown Marmorated Stink bug becomes an indoor pest on warm fall days when it is searching for a protected overwintering site. The Stinkbug is also a pest in the early spring when it emerges from overwintering sites and begans its annual ritual of mating and searching for food sources. Although Stinkbugs are not hazardous to people or pets, their menacing look can be deceiving. They are not known to actually bite, nor have they shown any potential for spreading disease. The Stink bug gets its name from the fact that when they are threatened they emit a strong "stinky" odor that is very offensive. This protective odor mechanism protects them from birds, spiders and other prey. Stinkbugs also "stink" when they are crushed which releases the stink odor.
Facts about Stinkbugs
Stinkbugs are from the family "Pentatomidae". They are primarily an agricultural pest imported from China and the far east. Stinkbugs are thought to have originated somewhere on the east coast, but have been found in many states including Arkansas, California, Connecticut, Delaware, Florida, Georgia, Indiana, Kentucky, Maine, Maryland, Massachussetts, Mississippi, Missouri, New Hampshire, New Jersey, New York, North and South Carolina, Ohio, Oregan, Pennsylvania, Rhode Island, Tennessee, Texas, Virginia, Washington D.C., West Virginia.

Female Stinkbugs lay a single deposit of 50-100 eggs per year in the United States beginning in late May - August. These eggs hatch into small red and black nymphs (babies) that go through 5 life stages (molts) before becoming an adult. Adults begin searching for overwintering sites beginning in early September through the first half of October. This search for an overwintering site will bring them indoors where light and heat are the main attraction.
Where to find and locate Stinkbugs
Stinkbugs are primarily an outdoor pest. They feed on a wide variety of plants, fruits, and vegetables. Apples, peaches, figs, mulberries, citrus fruits, persimmons, soybeans, as well as weeds and ornamental plants have been known to have been fed upon by Stinkbugs. The Stinkbug will bite into the surface of the fruit or vegetable which results in a bruise to the surface and consequential damage resulting in the fruit or vegetable being worthless and unmarketable. This damage to the surface promelgates deep into the tissue of the plant and is commonly known to farmers and growers as "cat facing". Their intrusion indoors in the fall and winter is purely a "seasonal" migration.
How to kill and get rid of Stinkbugs
To minimize the possibility of a Stinkbug infestation, mechanical exclusion such as fixing small holes, cracks, and other outside entry points should be fixed or repaired in the late spring or early summer before the bugs begin their migration to overwintering spots. Cracks around windows, doors, siding, utility pipes, chimney flashing, eaves, vents and other areas should be caulked or sealed with a quality silicon type caulk. Screens on doors, windows and vents should be secure and replaced if damaged or ripped.
In most instances, Stinkbugs are found indoors before any thought is given to preventive measures. If Stinkbugs are prevalent in your area, then the time to begin "Stinkbug proofing" should begin before any signs of indoor infestations are found. If Stinkbugs have already infiltrated the building then the time to begin the "roundup" and elimination procedure is now.
Indoor Stinkbug Control
Indoor Stinkbug control can be obtained by using Talstar Professional, Demon WP, UpCyde, or Tengard. Simply spray these products along window sills, baseboards, and other indoor areas where Stinkbugs are found. Wall void dusting, and attic dusting can be very effective help provide long term control inside walls, attics, eaves and other areas where Stinkbugs can possibly hide, overwinter or gain entrance into the structure. Using an insecticidal dust such as Alpine Insecticide, Delta Dust or Drione Dust applied either by hand with JT Eaten's Hand Duster or the B&G Quart Pump Duster inside walls is easy and provides good control. Attics and crawl spaces can be dusted with the B&G Quart Pump Duster or the B&G Electric Duster. The use of dusts in these areas will go a long way towards reducing or eliminating Stinkbugs and will also eliminate cockroaches, spiders, ants, scorpions and most crawling insects.
The use of EcoSafe "Sticky" Bug Traps can also be very effective at capturing Stinkbugs and can help reduce the use of indoor sprays. Simply peel of the protective paper cover, fold trap cover into place and place along baseboards, under furniture, etc. The glue impregnated into the trap will capture Stinkbugs and not let them get away.
If you decide to vacuum up Stinkbugs, be prepared for the STINCH!!! Remember, Stinkbugs release their stink as a protective measure and also when they get squished. Vacuuming up Stinkbugs will certainly result in a stink vacuum bag. Use EcoFresh Instant Odor Neutralizer to kill the stinkbug smell inside the vacuum bag. You can also use EcoFresh inside air conditioning vents, air returns and other areas to kill the stink.
Outdoor Stinkbug Control
Outdoor Stinkbug control can be obtained by spraying the lawn, under shrubs, vegetation, and around the perimeter of the home or building with Talstar Professional, Demon WP or using Talstar Granules or Bifen Granules. Stinkbugs ALWAYS begin outdoors, especially in garden areas, so beginning the treatment outdoors is highly recommended. If Stinkbugs are eating up your garden, then try using Alpine Insecticide (Dinotefuron). Sprinkling Alpine directly on the plants is safe, effective and highly recommended by the United States EPA.

Sometimes, simply treating outdoors will solve the indoor problems or make the indoor Stinkbug infestation much easier to manage with non-chemical measures such as vacuums, etc. But if you vacuum, BEWARE of the stink!
Natural and Organic Stink bug Control Tips
Natural Stinkbug control outdoors is almost impossible. Stink bugs are strong fliers and will travel to find a food crop, so not only will you have to fight those breeding in your yard but incoming ones also. There are some non-toxic methods of control to fight the stinkbugs that come into your garden. One way to protect your crop is the use of row covers for crops such as peas and beans. Besides handpicking the Stinkbugs you can also use a small cordless hand vacuum to suck them up before dumping them in some soapy water. Starting the battle early, before you actually see adults is important because the young nymphs can cause feeding damages as well. Don't plant sunflowers near your garden as stink bugs are highly attracted to them. They can be used as a trapping crop to lure the stink bugs away from your garden where they can be sprayed with stronger chemicals without worry.
Indoor natural Stinkbug control is practical, although it can be a daunting task. Vaccuuming and the use of a natural trap like the EcoSafe Sticky Bug Trap which has a natural Vanilla scent can be effective as a "pesticide free" means of control. Be prepared though, Stinkbugs can be ruthless in their task of finding over wintering spots and the use of anything other than good old "Stinkbug insecticides" indoors may only lead to frustration and a sudden urge to scream and use large amounts of profanity.
Technician's Notes On Stinkbug Control
Stinkbugs are usually a crop problem and not specific to homes or buildings. The use of large amounts of Talstar or Tengard outdoors every few days or weeks will lead to improved control. Sticky traps indoors work, but need to be replaced every so often so be sure and have a healthy supply. Spraying indoors more than 1-2 times per month is not recommended. Spray outside often, dust the walls and attic and use traps and sprays indoors as needed.