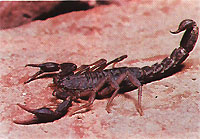 Scorpions are very distinct creatures belonging to the family of Arachnids. They can be anywhere from 1/2 inch to over 8 inches in length. Generally, scorpions are tan in color but there are some species that are yellow, black or red. While the size and color varies from scorpion to scorpion, the body structure is the pretty much the same for all species. All scorpions have eight legs with two pinchers, or pedipalps, and a segmented body that leads to a tail which curves up over the body. The tail has a stinger on the end which is used to kill or paralyze its prey. The size of the pinchers often tells how poisonous the scorpion is. Large rounded pinchers often indicate a non-poisonous scorpion while small slender pinchers such as those found on the striped bark scorpion indicate a fairly poisonous and possible deadly scorpion.

Types of Scorpions
Scorpions are quite common in much of the southern and southwestern United States. While there are only 13 families of scorpions, there are more than 1,400 species of scorpions worldwide. Out of the 1,400+ species, only 25 have the ability cause death in humans. In America, the Bark Scorpion, also known as the Centruroides gertshi or Centruroides sculpturatus, is the most well-known for causing human fatalities. This scorpion can be found in Arizona, California, Texas and New Mexico.
Another popular scorpion found in the United States is the Centruroides vittatus, or the striped scorpion. This species doesn't have life threatening venom and is prominent throughout the southern states.Most species which enter houses are not very poisonous, their stings being comparable to those of bees or wasps. However, certain species in the desert Southwest can be dangerous, especially to sensitive or allergic people. Most scorpions are active at night. During the day they hide under bark, boards, rocks, or in rubbish. In houses, they are most often found in undisturbed areas such as closets, seldom-used shoes, or folded clothing. (Black Scorpion Pictured)
Typical of the scorpions is the common striped bark scorpion (pictured at top), Centruroides vittatus, which is widely distributed in the southern United States. It has 2 broad, dark bands extending the length of the back, on an otherwise yellowish-brown body. Mature specimens are slightly less than 1.5-inches long.
Two dangerously poisonous scorpions are Centruroides gertschi Stahnke and Centruroides sculpturatus Ewing. They may reach a maximum length of 2 to 3 inches. Both species are found in southern Arizona and adjacent areas of California, New Mexico, and Texas. In these areas, scorpions are generally found in homes because of the availability of water and shade in and around the house.
While some scorpions have fatal venom, researchers have discovered that various types of scorpion venom may be able to help treat a number of health problems. These include autoimmune disorders such as multiple sclerosis and rheumatoid arthritis, as well as, treating some dermatology issues. Scorpion venom may also be able to aid in the diagnosis and treatment of various forms of cancer.
Where To Find And Locate Scorpions
You may be surprised to learn that scorpions can be found on every continent except Antarctica, but dry climates are their favorite. Due to the fact that scorpions are nocturnal, they hide during the day. Popular indoor hiding places for scorpions include closets, piles of laundry, attics, bathroom or kitchen cabinets and crawl spaces. Scorpions also don't like temperatures over 100°F, so it's not uncommon to find them burrowed in the sand, under rocks or in shady spaces when outdoors.


How To Get Kill & Get Rid Of Scorpions
It can be difficult and time consuming to control scorpions in and around a home, but it can be done. The first thing that should be done is thoroughly cleaning of the inside of the house. Carefully pick up all laundry and debris cluttering the floors. Clean the bathroom and kitchen cabinets out, as well as, the closets and other rarely used spaces. It's wise to treat these areas while the are empty with insecticidal dusts such as Drione Dust or sprays such as Demon WP.
So what do scorpions eat? They eat insects, so keep the house insect free with indoor pesticides and with glue traps such as the ePest IPM Pro Bug Traps and Monitors. Glue traps are great at capturing insects and also beneficial. While they won't kill scorpions, they will catch them. Scorpions feed on small spiders and soft bodied insects. They will eat other species of scorpions and even small individuals of their own species. They have poor eyesight, so do not stalk or chase prey, but lie in waiting to grab it with their pincers. Small insects are eaten immediately, but larger prey are stung and eaten after they cease to struggle.
To successfully control indoor scorpions, it's essential to manage the scorpions outside the home. Sealing off all of the outdoor cracks on the home with caulk or another sealant is very important. Also, reducing the number of outdoor hiding places for scorpions is important. Remove debris such as loose rocks, wood, trash and other unnecessary things from the backyard and around the home. It's also beneficial to keep the grass mowed short and all shrubbery nicely pruned.
Outdoor areas can then be treated with a residual insecticide of Demon WP, Demand or Talstar. Indoor areas such as crevices in woodwork, closets, around plumbing, doorways or windows, and other areas where scorpions might hide should also be carefully treated with a similar spray or dust. Non-residual or contact applications of CB 80 can be useful when rapid control is needed indoors.


Scorpion Control Recommended Products:
Scorpion Control Indoors - Treatments using Demon WP or Demand applied to cracks, crevices and other hiding places will give good control indoors and outdoors. Dust products such as TriDie or Drione are very useful for treating wall voids and crawl spaces. Contact sprays of CB 80 or Invader aerosols will also give rapid knockdown when used indoors. Use ePest IPM Pro Bug Traps and Monitors placed behind and under furniture to trap and monitor scorpion movement.
Scorpion Control Outdoors - When treating outdoors, it is necessary to treat thoroughly around the foundation and to treat the mulch in flower and shrub beds. Talstar Professional, Talstar Granules or Demon WP is very effective.
Application Do's - Treat every 1 to 2 weeks or until problem goes away. Use a "blacklight" at night to find scorpions - they glow under a blacklight !
Application Dont's - Walk around with bare feet at night or pick them up with your bare hand !