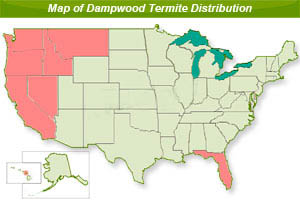 Dampwood Termites can be found in Florida, Hawaii and along the Pacific Coast in Northern California, Oregon and Washington State. They are also found in the mountain basins of Nevada, Idaho and Montana.
Dampwood termites are the largest of all termite species and can range from 1/3 inch to well over 1/2 inch in length. Because of their large size and ability to damage wood more rapidly than their cousin subterranean and drywood termites, they are considered an important economic pest in areas along the Pacific Coast.
Dampwood termites live in moist wet areas such as fence posts, trees, wood siding in contact with the ground, rotten eaves, sheds and other similar areas. The moisture content in the wood has to be sufficient enough to be of interest to the dampwood termite, otherwise they cannot live.
Dampwood termites are often called "rottenwood" termites because of their desire for very moist and rotted wood. Dampwood termites require a constant water source or close contact with water and very rarely if ever can survive even in a high humidity climate without access to water. They require high amounts of moisture, humidity and access to water. For this reason, they tend to nest in trees, damp logs and untreated posts. Dampwood termites are also known to infest live living trees.
Of all the species of Dampwood Termites, the Florida Dampwood termite does the least amount of damage and rarely infests homes. The Nevada Dampwood and the Pacific Dampwood Termite on the other hand can do large amounts of damage to homes and are considered an economic pest in these areas.
Dampwood termites are found in areas from Northern California to Oregan, Washington State and in the mountains of Nevada, Idaho and Montana. They are the largest of all the termite species and they can and will infest homes causing significant damage.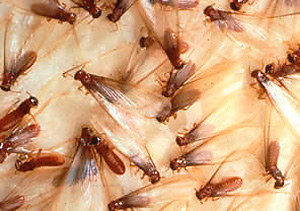 Winged Dampwood Termite Swarmers.
Size - up to 3/4 inches long
Soldier and worker dampwood termites can be three times the size of typical subterranean and drywood termites. Soldiers can range in size from 3/8 inch to over 1/2" and winged reproductives can be almost 3/4 inch in length.
There are three main species of Dampwood termites, the Nevada Dampwood Termite, the Pacific Dampwood Termite and the Florida Dampwood Termite. The Nevada Dampwood Termite is found in the mountain basins of Nevada, Idaho and Montana. The Pacific Dampwood termite is found from Northern California up through Oregan and parts of Washington State. The Nevada Dampwood termite behaves very similarly to the Pacific Dampwood termite and even lives in many of the same areas.


The Florida Dampwood Termite is sometimes referred to as the "southern dampwood termite". In Florida, there are 3 main species of "neotermes" dampwood termite. Neotermes castaneus, Neotermes jouteli and Neotermes luykxi. Neotermes termites are part of the Kalotermidae family of termites which includes both drywood and some dampwood termites. In some cases, a Florida termite - "Prorhinotermes simplex" is referred to as the Florida Dampwood Termite. Florida Dampwood Termites are found in the southern half of Florida and in the Florida Keys.
Moisture control and not chemical control should be the first line of defense against this aggressive pest. In situations where moisture control cannot be implemented, spot or localized treatments of many termite insecticides can and will effectively resolve the infestation.


Dampwood Termites are controlled by the same methods as drywood termites when they are in wood not in contact with the ground. Where there is ground contact, structural changes and or modification to eliminate moisture may be necessary, together with ground treatment as recommended for subterranean termites. However, control consists primarily of eliminating the moisture problem in the wood, often involving replacement of damaged and moist wood. Bora Care can be used as a wood treatment to help prevent dampwood termite infestations. Most of the termite bait systems do a good job of controlling dampwood termites such as the Hex Pro Termite Baiting System. Termidor does a good job but care should be taken to avoid contamination of water sources. The bottom line on dampwood termite control is that all moisture sources have to eliminated and only then should any type of chemical treatment be attempted. If elimination of water and moisture sources are not practical, then the use of a Hex Pro Termite Baiting System is highly recommended.
Click here for more information Drywood Termites
Click here for more information on Liquid Barrier Termite Treatments



Hex Pro (Sentricon) Termite Baiting Kit
20 Hex Pro Termite Baiting Stations
(6) Shatter Termite Bait Cartridges
(1) Lid Removal Key
Free Seasonal Termite Baiting Tips
FREE Lifetime Technical Support
Regular Price $379.85
Combined Kit Savings - $40.00
Special Sales Price - $339.95
FREE Super Saver Shipping (48 States Only)

Whitmire Advance Termite Bait System
20 Hex Pro Termite Baiting Stations
(6) Advance Compressed Termite Bait Inserts
Free Seasonal Termite Baiting Tips
FREE Lifetime Technical Support
Regular Price $329.95
Combined Kit Savings - $30.00
Special Sales Price - $299.95
FREE Super Saver Shipping (48 States Only)