Here's What The Experts Say About "How To Kill Termites " -
Combining localized liquid termiticide treatments with a termite baiting system is the best way to provide long term
structural protection from subterranean termites in California." - Dr. Mike Rust, University of California




How To Kill And Get Rid Of Termites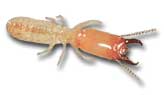 Termites are every homeowners nightmare. That's because the proper tools and methods needed to kill subterranean and drywood termites are a closely guarded secret by pest control companies. Since 1997, ePestSupply has been The Internet Resource for the latest in termite control products that most termite control companies such as Terminix, Orkin, HomeTeam, Arrow and others use. ePestSupply makes sense of all the different methods and techniques and offers you a way to do your own termite control and save money.


1 - Identify Your Subterranean, Drywood or Dampwood Termites
90% of termite populations in the USA are those of subterranean termites. 10% are those of drywood termites. You need to know the difference before you begin treatment. If you live in a coastal area where high humidity exists, then you could be dealing with drywood or dampwood termites. Subterranean termites travel in mud shelter tubes. Drywood termites leave small holes and fecel pellets called frass. We have termite distribution maps and step by step guides on how to get rid of kill all species of subterranean, Drywood, Formosan, Dampwood and Powder Post Termites.

Click here for more info on termite identification
Click here to see pictures of termite damage



2 - Kill Existing Termite Infestations Using Termite Insecticides And Foams
In order to stop termite infestations and to prevent more damage from occurring, chemicals have to be applied to kill termites. Termidor SC is the product of choice for treating soil in the USA and Bora Care is the product of choice for treating wood. Most treatments are made to areas where termites are active and a few feet on each side of the infestation. Premise 2 and Bora Care are the #1 products used throughout the WORLD and recommended by most Universities.
3 - Termite Bait The Subterranean Termite Colony For Long Term Control
Termite baiting became very popular in the early 2000's. Then it faded away with the introduction of Termidor. Now, with countries all over the World beginning to question the safety of Termidor, Termite Baiting and Termite Monitoring are roaring back into the mainstream!. We carryAdvance, Hex Pro (Sentricon) and Spectracide termite baits. These termite baits are proven to kill termites in Laboratory and University tests, and are used by professional pest control companies all over the World !
Professional termite baiting services are an expensive. Why not do it yourself ? You can achieve the same results as a professional by using the same products! Do it yourself and save thousands of dollars!



Hex Pro (Sentricon) Termite Baiting Kit

20 Hex Pro Termite Baiting Stations


(6) Shatter Termite Bait Cartridges
(1) Lid Removal Key


Free Seasonal Termite Baiting Tips




FREE Lifetime Technical Support


Regular Price $379.85

Combined Kit Savings - $40.00

Special Sales Price - $339.95

FREE Super Saver Shipping (48 States Only)



Whitmire Advance Termite Bait System

15 Advance Termite Bait Stations


(6) Advance Compressed Termite Bait Inserts


Free Seasonal Termite Baiting Tips




FREE Lifetime Technical Support


Regular Price $329.95

Combined Kit Savings - $30.00!

Special Sales Price - $299.95

FREE Super Saver Shipping (48 States Only)



Spectracide Termite Detection And Killing Stakes

15 Termite Detection and Killing Stakes


1 Installation Tool


Free Installation and Insepction DVD




FREE Lifetime Technical Support


Regular Price $99.95

Special Sales Price - $89.95

FREE Super Saver Shipping (48 States Only)