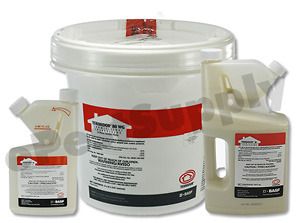 Termidor SC 20 oz, 78 oz and WG

What is Termidor ?
Termidor is the #1 choice of pest control companies across the USA for subterranean termite control. With its low odor and long lasting residual, Termidor is the pesticide of choice in tough pest control situations. Termidor is a low toxicity insecticide product that kills termites, ants and a variety of pests. Termidor is mixed with water and applied to soil, building perimeters, wall voids and other areas where pests hide.

The active ingredient in Termidor is Fipronyl and has shown to last 14 years in USDA field research tests for subterranean termites.

Termidor is unique. Only Termidor has the domino effect on termites and ants. Once termites and ants are exposed, they become infected and start to slowly die. Social insects such as termites and ants will interact with one another through feeding or grooming processes and infect each other for rapid control of entire colonies or nests. You can trust Termidor to take care of the job with only 1-2 applications resulting in a huge savings in time and materials resulting from retreatments with inferior products.

What Pests Does Termidor Control ?
Termidor SC (Suspended Concentrate) is a liquid formulation for the control of termites, including subterranean, Formosan, and drywood termites, carpenter ants, and nuisance ant species such as argentine ants, big-headed ants, odorous house ants, pavement ants, etc.

Termidor WG (Wettable Granule) is recommended for the control of subterranean termites and should only be used in power sprayers with constant agitation.
---

How To Apply Termidor
Termidor is for use in and around Homes, Apartments, Garages, Museums, Public and Private Institutions, Schools, Hotels, Hospitals, Kennels, Stables, Farm Buildings, Trucks, Trailers, Warehouses, Supermarkets, Restaurants, and Food Processing Plants.

Termidor SC is simply mixed with water and applied through a hand sprayer or power sprayer.

Termidor WG is mixed in a power sprayer and needs constant agitation to stay in suspension.

Never apply Termidor SC or WG with a hose end sprayer.

Termidor can be applied as a liquid spray, liquid dilution or as a foam application. Can be applied directly to soil, wall voids, posts, poles, and wooden landscape ornamentation.

Termidor Mixing:
.06% solution - 20 oz will make 24 gallons
.125 solution - 20 oz will make 12 gallons

Active Ingredients:
Fipronil...........................09.1%

EPA Reg. No. 7969-210


Termidor Label